When my kids were toddlers they discovered ride on toys and loved them so much! We had all sorts of different ride on toys for them to use, some we bought and some we got from friends. But as they grew older, our options for ride on toys were less and less.
Around the age of 5 we stopped getting ride on toys because our kids were too big for them, which was disappointing given how much they enjoyed these toys.  That is, until a few months ago when my 6 year old saw a little kid riding a large unicorn. I was intrigued, it looked like the perfect ride on for older kids so I started looking into this toy.  
I discovered that PonyCycle® is a human-powered ride-on toy, meaning it doesn't use batteries nor needs a charger. It also comes in different sizes, so you can get this ride on toy for toddlers all the way up to older kids. I was sold!
Now that we have had this toy for a while I wanted to share with you our experience with this Unicorn PonyCycle® so you can figure out if this is the right toy for your child. 
What is a PonyCycle®?
PonyCycle® is a ride on toy for kids, but it's different than any other ride on toy you've encountered. It's very unique in how it works: PonyCycle® is the first ride on toy powered by human motion. In other words, it doesn't require batteries nor electricity, all it need is your child's body movement to make it move.
I absolutely love this feature because it encourages physical activity, which is so needed in children. 
PonyCycle® comes in 3 different shapes and multiple different colors. You can get a PonyCycle® Unicorn, a PonyCycle® Horse or a PonyCycle® Zebra. 
PonyCycle® also comes in 3 sizes – it's designed kids ages 3 and up but depending on your toddler's size, a younger child could also ride it.
These are the three sizes available. Here you can see the PonyCycle® ride on horse in each size:
What sizes does the PonyCycle® come in?
The PonyCycle® ride on toy comes in three sizes! Their largest size is their newest size and it just came out on 01/01/2022.
Size 3:
This is the smallest size, for children ages 3-5 years old and up to 25kgs.
Size 4: 
This is their medium size, for children ages 4-9 years old and up to 40kgs. This is the model we received and the one you see pictured on this post with my 6 and 9 year old kids.
Size 5:
This is also known as the PonyCycle large as this is their largest model. It's suitable for children 7 and up, up to 88kgs. This model is big enough for me to ride it! I'm pretty excited about the idea of getting a ride on toy that my kids and I can ride.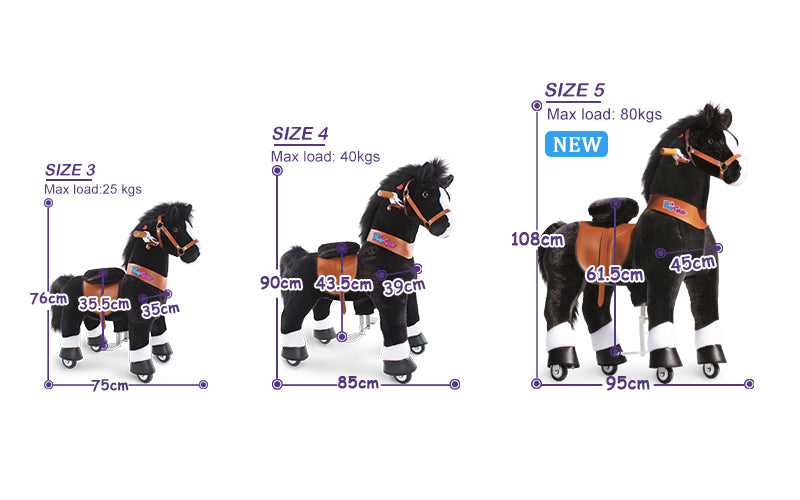 I love that PonyCycle® comes in different sizes because most ride on toys are made for little kids but big kids loved them too!
What features does the PonyCycle® come with?
The PonyCycle® looks like a unicorn, horse or zebra (depending on what you chose). And there are two models for each of these animals, model U and model K.
The model we reviewed is the Unicorn PonyCycle® model U 2021 so when looking at our video or pictures, that's the one you're seeing.
Model U 2021 features:
Brakes:
It comes with a hand brake, just like the one you find on bikes. I found this to be such an important feature and I'm so glad it comes with this. We ride our PonyCycle® outdoors and this is feature comes in very handy outside. The brake is also very to use and doesn't require lots of strength to operate – perfect for a child. 
Updated wheels:
The current model comes with wheels that are perfect for a smoother ride. You don't hear the wheels move and when your child rides it, you can see how smooth they move. 
The PonyCycle® rolls easily on both indoor and outdoor surfaces, including carpets. We've used it in our home, on sidewalks and streets and the wheels have rolled smoothly on all surfaces. 
Non-slip pedals:
This is a useful feature so your child's foot doesn't slip off the pedal. The pedal is part of the process to get this ride on toy moving so it's very useful to have non-slip pedals. We've used these pedals even with smooth sandals and have had no issues.
Realistic sounds:
My youngest child is obsessed with the sounds! The PonyCycle® model U 2021 comes with a small red button on the head, when the kids press this button it makes neighing and galloping sounds. It's also great when riding outdoors because it alerts others that the PonyCycle® is coming!
The only PonyCycle® that doesn't come with sounds is the Zebra, but both the Unicorn and Horse models make sounds. 
Model K features: 
The model K is pricier than the U model because this PonyCycle® model has a more luxurious appearance and is made with different materials.
These are the main differences for the model K PonyCycle®:
The plush is more soft and cuddly.
The PonyCycles come with more accessories. For example, the Unicorn comes with a flower crown on this model.
The pedals are made out of chrome and rubber and have different colors.
The wheels light up, without the need of batteries. 
The only downside is that this model doesn't come with brakes nor makes sounds, so in my opinion the model U 2021 is the one to get. 
Keep in mind that PonyCycle® sells accessories, so if you want to customize even more your ride, you can get accessories like a brush, gown, bows, ribbons, rein, etc., and even a Christmas outfit.
How does PonyCycle® work?
It took my child a literal minute to figure out how to operate her Unicorn PonyCycle®.
Once they sit on the PonyCycle® the weight of their body pushes down the middle structure, which propels to PonyCycle® ride on forward. This movements makes the foot pedals come up, and once they're up, your child pushes the pedals down and it propels the PonyCycle® forward more. 
When your child makes this movements over and over again the PonyCycle® moves forward with ease. The motion is very simple and a child can figure it out on its own. 
Check this video review so you can see how it moves or scroll to our review so you can see how my kids use our PonyCycle®.
PonyCycle® also comes with handles on each side so that your child can steer the ride. It also comes with a break. I found this feature to be useful when we were riding it on the sidewalks. It was very easy for my kid to stop her PonyCycle® and wait for me. 
I absolutely LOVE that the PonyCycle® is powered by their body motions. I think it's important for kids to get physical activity every day and this is one fun way to do that!
Is it easy to set up your PonyCycle® or does it take many hours? 
It's actually really easy to set up your PonyCycle® once you receive it. As a busy parent, I really appreciate this. I dread having to spend hours putting a toy together for our child on holidays and birthdays. However, it only too my husband about 5 minutes to set up our PonyCycle®! 
My kids were so excited to try this toy, I was relieved to see how easy set up was! 
All you have to do is attach the head to the body, zip it up and then remove a tag in a battery compartment. By removing this tag the PonyCycle® can make realistic sounds, like neighing and galloping. 
How do you turn on a PonyCycle®?
I was asked this question a few times so I wanted to address it. The PonyCycle® is human powered, which means there is no on and off button since it doesn't require batteries. 
All your child has to do is sit on it and off they go.
The only batteries this toy requires is to make sounds. However, your PonyCycle® already comes with the batteries for this function so there's no need to purchase batteries. All you have to do is set up the toy, remove the tag on the battery compartment (if you want the ride on toy to make sounds) and start using.
PonyCycle® Unicorn Review – Is it worth it?
Now that you know all the features PonyCycle® has to offer, it's time for our review.
Let's address the first thing, PonyCycle® is a pricy toy but after seeing the quality of the toy, how well made it is, how smooth is the ride and how the kids love it, I think it's worth the price.
Not only are my kids very excited about this toy, even after weeks of using it, but every time we use it outdoors all the kids come up to us to ask us if they can try it. It's a kid magnet for sure and so far it's attracted kids of all ages!
PonyCycle® is one of those toys that's made to last and that can be used by multiple children and passed down to the younger kiddos. If you're looking for the best birthday gift in 2022, this is it!
Our family really loves this toy, the only problem I've had is that both kids want to use it at the same time when we take it outside. We only have one PonyCycle® so we use it with a timer to make sure both kids can ride it for the same amount of time. 
My youngest child also uses it to go from one room to the next. We live in an apartment and our space is small so I wasn't expecting us to use it indoors as much, but the PonyCycle® is the right size for indoor use too and my kid rides on it every single day.
It makes us laugh every time she shows up riding her pony. It is the cutest thing! If you watch my Instagram stories you've most likely seen her riding it inside our apartment.
If you live in a bigger home, this toy is going to get so much use! If it gets this much use in our small apartment I can only image how much kids would use it in a bigger space. 
I've also noticed that the PonyCycle® does well both on our hardwood floors and carpets. It takes a little more body effort to move it on the carpet than on hardwood floors, but it's still pretty smooth and easy for my kids to use it on carpet.
I was also impressed with its performance outdoors. We have a huge parking lot we ride it on and it rides so smoothly!
The best way to find out if PonyCycle® is the right toy for your child is to see it in action. Check out our video review here:
As you can see we absolutely love this toy, and in my opinion, it is the best ride on toy! My kids are obsessed with it and have so much fun riding their Unicorn PonyCycle®. I honestly don't think you can regret making this purchase and the best part is that you can have this toy for years, so you'll definitively get your money's worth!
I love that we finally found a ride on toy my kids can use! 
Happy riding!