From birthday parties and family gatherings to lazy afternoons spent playing in the backyard, PonyCycle® offers countless fun and memorable experiences that children and parents alike will cherish for years to come. The memories it creates are priceless to every family.
As the newest member to PonyCycle® family, Model E is the result of a commitment to innovation, quality, and affordability. It offers something that was not only fun and engaging for children but also accessible to parents.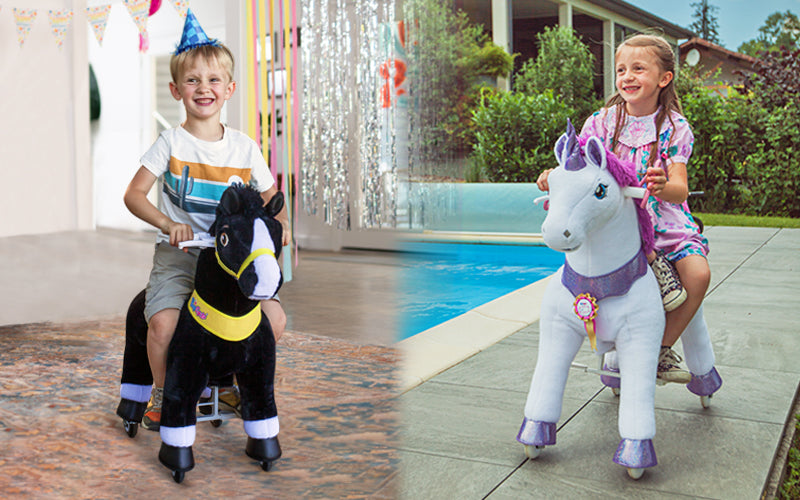 PonyCycle® Model E features a brand new design that is both stylish and functional.
The first thing what has to be said is it's attractive and bold colorway. 
The carefully selected combination of bold and bright colors create a unique and eye-catching look for this collection, it's sure to capture the attention of children. These colors complement the body of the toy, add an extra touch of playfulness and whimsy, sparks a child's imagination. Model E ride-on horse and unicorn toy comes in various colors which lets both boys and girls to choose with ease.
Another standout feature of the Model E is the quite vibrant eyes that are incorporated into the design.
Eyes are designed to be extremely expressive, creating a sense of personality and conveying various moods and emotions. This enables children to imagine the thoughts and feelings of their pony friend, enhances connection and interaction between them. In addition to their aesthetic appeal, the eyes are embroidered in the soft and plush material, serving a more practical purpose, they are securely attached and less prone to damage or wear over time.
The Model E Horse also features necklace and saddle flaps made of durable canvas material. 
This is also the first time in PonyCycle®'s history. Canvas is known for its strength and durability, it can withstand the rigors of active play, making it ideal for a ride-on toy like PonyCycle®. It blends well with the horse construction, also adds a touch of classic charm to the overall design.
New style velvet fabric was chosen as the primary material for the Model E.
Due to the softness and smooth texture of velvet fabric, when children interact with the pony, they will immediately notice the gentle caress, which enhances the sensory experience of riding. In addition to its tactile appeal and comfort, the new style velvet fabric also adds a visual elegance to the Model E.
It also shares many of the basic classic features of PonyCycle®.
The combination of sturdy construction and precision engineering ensures the smooth riding experience.
It is also equipped with a built-in hand brake to stop easily whenever needed.
Prettier, While Spend Less.
PonyCycle® aims to bring joy and imaginative play to more children. The Model E rightly proves that a fantastic ride on horse toy can be within reach for families who value both quality and affordability.

While Model E offers exceptional value and a range of impressive features, it is priced competitively to ensure accessibility for families. Its stunning design and attention to detail will evoke a sense of marvel, but the true magic lies in the incredible value it provides, get ready to experience a sense of wonder and satisfaction!
Whether your child dreams of riding a majestic unicorn or a beautiful horse, the PonyCycle® Model E has something for everyone. With its exciting new design, durable construction, and excellent details, this ride-on toy is sure to be a hit with both parents and children alike. Give your child the gift of fun and adventure with it, this ride-on toy is sure to become a favorite in your household!