What happens to orders sent to UK after Brexit?
Q 1: Where will my order be shipped from?
From Germany.
Q 2: Is there any change on my order after Brexit?
Yes, Brexit has indeed brought some changes to orders sent to UK, after Brexit, recipient need to pay the Import Customs Charges when parcels arrive in UK.
Q 3: Which post company will deliver my order?
PonyCycle GmbH ship all orders by DHL from Germany.
When parcels arrive in UK, they will be handed over to local post company - Parcel Force - for quick handling.
Q 4: Who will charge the Import Customs Cost?
Parcel Force will handle the customs clearance and collect the clearance & improt VAT to recipients directly.
Q 5: When should I pay the Import Customs Charges?
When parcels arrive in UK, recipient will receive a letter like below from Parcel Force to pay the cost.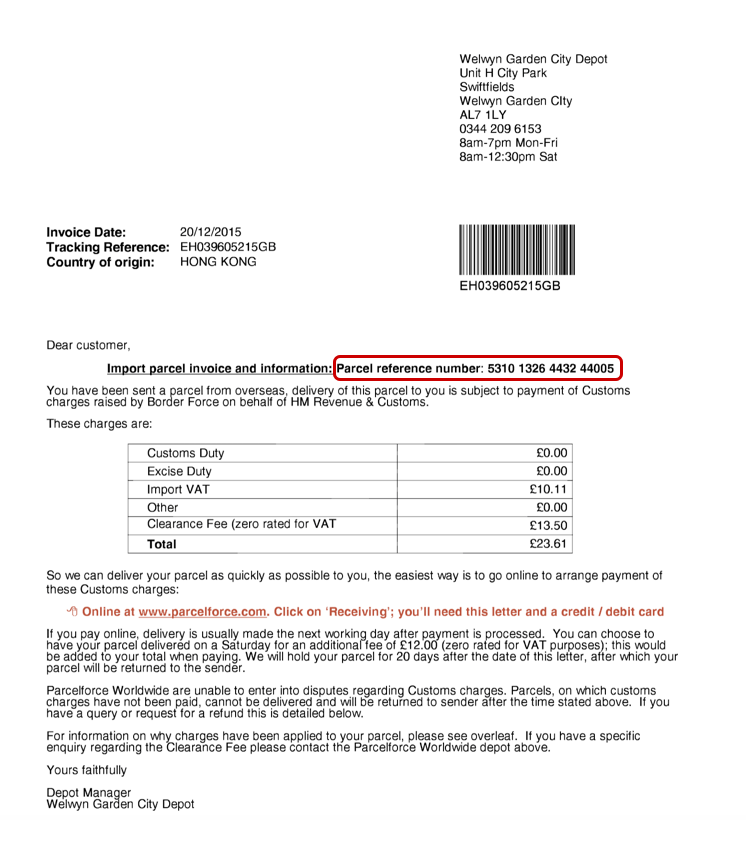 Q 6: How much is the Import Customs Charges?
Total amount = Product Import VAT + Customs Clearance Fee £12.
Based on different product prices and Exchange Rate changes, the total amount will be around £45-£110.
Q 7: Who will pay the Import Customs Charges?
To give best support, PonyCycle GmbH will bear this cost for all customers.
Just the cost is not charged by PonyCycle GmbH, so it needs recipients to pay it in UK directly, and forward the letter to PonyCycle GmbH for refund accordingly.
Q 8: How to pay the Import Customs Charges online?
Please click here to pay directly.
Q 9: What if I didn't get the letter from Parcel Force?
Please click here to check with Parcel Force.
Q 10: When will my order delivered after Customs Charges paid?
The parcel will be delivered soon on next working day after paid.
Q 11: Why there is surcharge of £12 in addition to above Import Customs Charges? Who will pay for this?
When recipients schedule the delivery date on Saturday, there will be additional £12 charged for the non-weekday delivery. PonyCycle GmbH will not bear this special service fee, it will be at recipients' own expense. 
Q 12: What should I do if I exchange or return my order?
Order exchange or return kindly not be recommended. Because the shipping cost between UK and Germany gone up since Brexit. If it's not quality problem or PonyCycle GmbH's fault, buyer will bear the return and resend shipping cost. If exchange, buyer will also need to pay another Customs Charges for a new shipment.
** Customs Charges will not be refunded for return orders. (Because it's charged by UK Customs direclty, not by PonyCycle GmbH)
The most common returns are made due to mistakes in sizing while ordering.  We recommend checking out our size chart before purchasing to avoid these extra expenses.
When you receive the parcel and found the package damaged, please check if you could accept the damges in front of the delivery man, if not, please directly reject to receive it and contact PonyCycle GmbH for resending a new one.
If any further question, please email shop@ponycycle.de.