Which size PonyCycle Should I Get?
PonyCycle ride on toy has various sizes for children:
Size 3 is for age 3-5, max load capacity is 25 kgs;
Size 4 is for age 4-8, max load capacity is 40 kgs;
Size 5 is for age 7+, max load capacity is 80 kgs.
How to choose the right size PonyCycle for my kid?
Different from bikes, our ponies allow kids to sit on the horse back saddle with two feet on the pedals instead of on the ground. Here we go!
"My child is 5 years old, which size should I select?": Age is more like…an approximate fit, but it's typically not a good indicator of body size. Every child is an original and you can hardly choose the right size of a ride-on pony based on age alone.
"Yeah, but what about their height and weight?" Good question! The height and weight will help much, but that's also NOT the most important factor!
The best size for your kiddo is the size that fits them from day one. The best way to do that is considering all child's height, weight and their INSEAM. Right, the inseam! Inseam is the most accurate fit, trust us. Match the pony size with your kids size as below size chart.
 "Okay, got it. How to measure the inseam?": Please measure your child's inseam as following picture.
"What about if in between size?": If they're in between a smaller and larger size, it's best to consider your kid's ability and age.
If choose a smaller size, kid would immediately have a great fit pony and the best riding experience. A larger size would be for their growth and long-term use, but kids may need to tiptoe slightly in a short time. 
" Is that all?" : Of cause not! In order to make it easy to play with larger size, we also designed the pedal pad for the little kids to catch the pedals.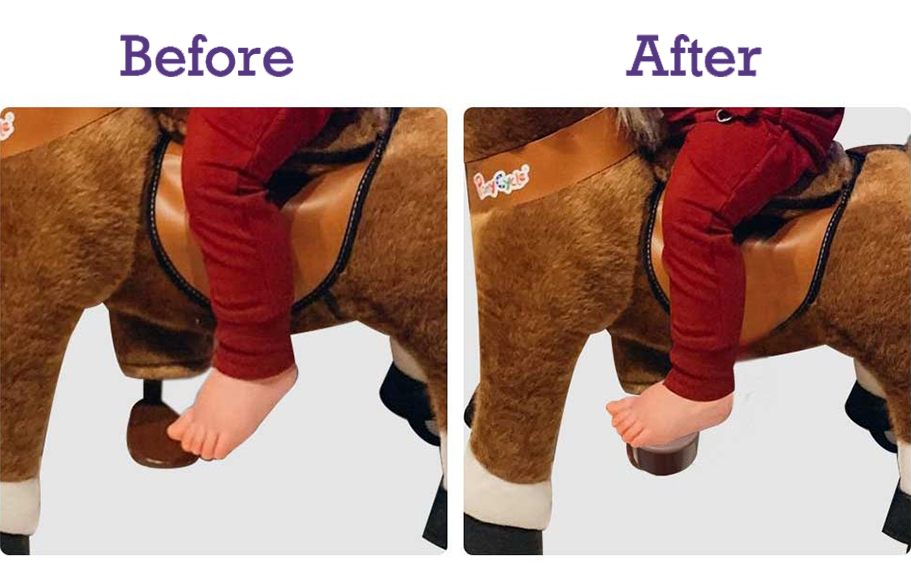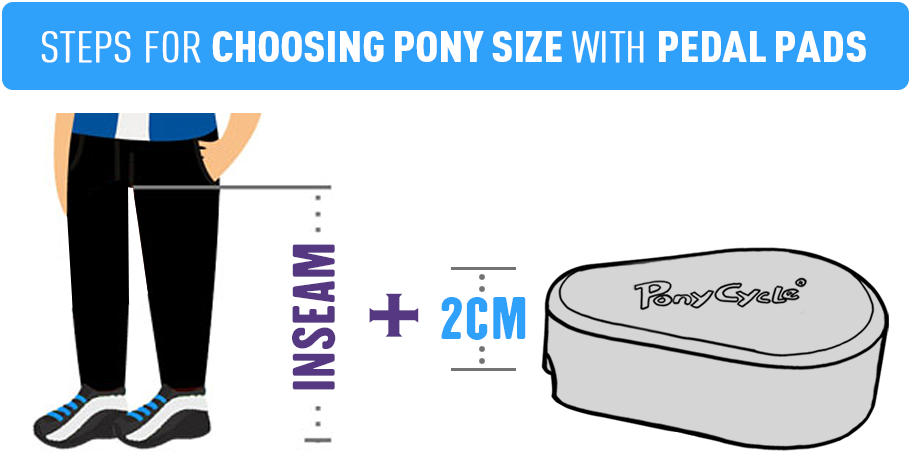 1.  MEASURE YOUR KID'S ORIGINAL INSEAM
2.  PLUS PEDAL PAD INCREASED HEIGHT 2CM
3.  GET A "NEW INSEAM" AND BACK TO KIDS SIZE CHART TO CHOOSE
"I'd like to know more product size info.": No problem, here are the detail sizes!
Model E Product Size
Model U Product Size
Model X Product Size
 "How about the package size?": Below are the packing carton parameters.
Getting your child a PonyCycle ride-on horse will give them a new and fun reason to explore the world. They not only enhance their physical fitness from the exercised but also improve their coordination and motor skills. 
PonyCycle is the first ride on in the world powered by human motion simulation, which allows kids to exercise and ride around the pony without batteries and electricity. Instead of children riding on rocking horses which keep the rider in one spot, PonyCycle ride-on horse allows kids to ride to wherever they want, like riding on a real horse. They can ride indoors or outdoors on flat ground. It works by gently bouncing up and down on the saddle. Kids make the horse's legs and head move forward and backward, moving the horse toy forward in a galloping motion.
Learn more about:

How does PonyCycle® work?

Does PonyCycle® work on carpet?

Differences between Model E, X and U