When we mums bought toys for our kids, we are even more excited than the little cuties and cannot wait to see their cute reaction. 
However, we often have the headaches that most big toys like kids' bikes, rocking horses, electrical ride-on scooters, etc. are not so easy to assemble. We are so confused with the complicated steps and have no clue how to put so many different parts together. We have to keep the toy box hidden and wait until handy husbands to do it. 
Surprisingly, PonyCycle® horse/ unicorn toy is so easy for everyone to assemble, even you never did things like this before.
When opening the color box, we find only two pieces here....pony body and pony head are well protected in a plastic bag. So the head needs to be fixed onto the body.
We also find a toy instruction manual and a little tool inside the bag.
Read it thoroughly especially all the important notes. 
Finally we come to Page 3 for the assembly. Instructions were clear and we didn't have any problems with assembly.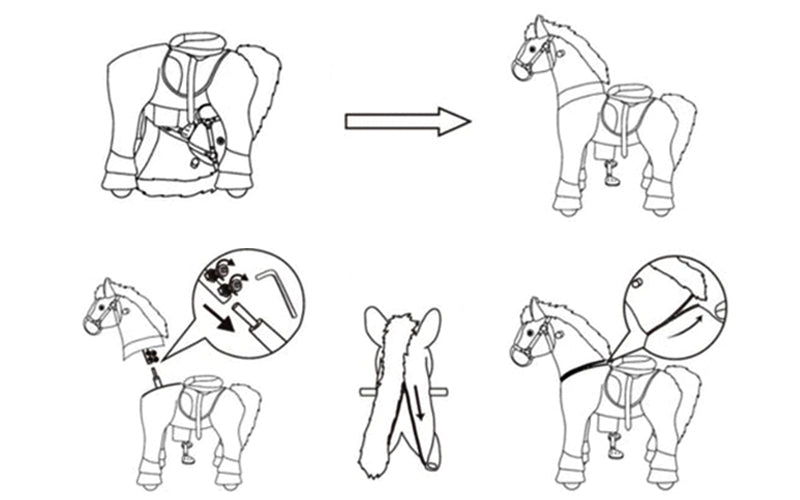 There is some minor assembly required.
Following the instruction, first, we just need to find the zipper at the end of the head mane. 
Then unzip it. You will see a head tube with two bolts.  
Now you are even 100% sure the head tube will match perfectly with the neck rod, which makes you eagerly to put them together. Bingo!
To finish this step, we will have to use the little tool to unscrew the two bolts until the rod can go inside the tube completely.
After this, don't forget to screw the bolts back and keep the two parts together.
Pay attention to keep the wheels' direction exactly forward, not left nor right. It aims to avoid the pony won't go sideways when the horse riders just want to gallop forward. 
We also need to zip the collar again and zip the mane.
Woww, it takes us less than 3 minutes to assemble it. 
No wonder many people on amazon and social media comment that it assembled easily.
I really appreciate these comments encourage me to try it by myself. I feel so proud.  
After I made it, I totally understand why the assembly is so simple. Compared with toys with batteries, PonyCycle® toy is designed to work with mechanical principle. It leaves kids strength to make it gallop, not the complicated electronic equipment.
Feel free to click below image for the assembling video.